Partners in STEM Education
Palo Alto Networks® and Girl Scouts of the USA (GSUSA) have joined forces to inspire the next generation of cybersecurity experts. The first-ever national cybersecurity badge program provides access to cybersecurity education for girls across the United States, encouraging deeper engagement in STEM activities for girls and eventually priming female candidates to fill the ever-growing vacancies in the technology, IT, and cybersecurity fields.
This long-term collaboration with Girls Scouts kicked off in 2017 with curriculum development and testing in select U.S. councils. The first group of cybersecurity badges was launched in the summer of 2018 to Girl Scouts nationwide in kindergarten through fifth grade, and the second group became available in the summer of 2019 to Girl Scouts in sixth through 12th grade. In the first year of deployment, more than 100,000 badges were earned.
Shared Goals
Provide cybersecurity education to girls nationwide, beginning as early as kindergarten
Eliminate traditional barriers to STEM education access
Encourage girls to pursue work in fields like IT and cybersecurity, and fill the STEM jobs pipeline
Cultivate an early interest in cybersecurity and technology among girls
Achieve gender parity in the tech workforce
Encourage girls to become leaders in the cybersecurity field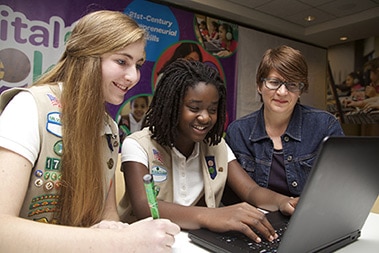 Leveling the Playing Field
According to the Cybersecurity Jobs Report by Cybersecurity Ventures, the worldwide deficit of qualified cybersecurity professionals will reach 3.5 million by 2021. Despite the urgency with which organizations must address cyberattacks, it takes an average of six months to find qualified candidates to tackle today's toughest cybersecurity challenges. As the frequency and sophistication of cyberattacks continues to escalate, staying ahead of tomorrow's cyberthreats will require a diverse team of problem solvers to approach challenges in creative and innovative new ways.
However, women continue to remain vastly underrepresented within the cybersecurity industry, holding just 11 percent of cybersecurity jobs worldwide. This partnership seeks to change that.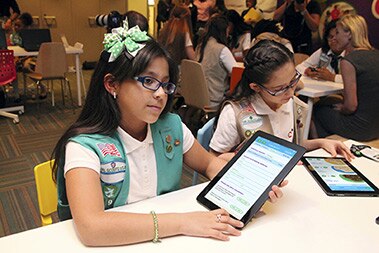 A Bright Future With Girl Scouts
We are committed to cultivating girls' interests and developing their talents, showing them a clear path to exciting, challenging and well-paying jobs in tech and cybersecurity. There is no better organization to tackle this with us than Girl Scouts of the USA. At 2.5 million strong – 1.7 million girls and 750,000 adults – Girl Scouts is not only a respected American institution, but by far the largest leadership organization for girls in the country. Together, Palo Alto Networks and GSUSA will introduce cybersecurity to girls throughout the United States with a fresh and compelling curriculum designed to spark interest and develop a 21st-century skillset.
Girl Scouts offers every girl a chance to practice a lifetime of leadership, adventure and success. To volunteer, reconnect, donate, or join, visit www.girlscouts.org.