Cloud-delivered threat detection and prevention for federal agencies
Keep data safe and use cybersecurity resources wisely with a cloud-delivered cyberthreat analysis and prevention service that is FedRAMP authorized.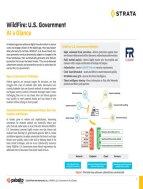 Rapidly detect and prevent unknown threats to operations and critical infrastructure
Stop threats faster with real-time data from the industry's largest threat sharing community. Prevent data breaches or downtime with automation that rapidly updates network, endpoint and cloud sensors with protections that counter the latest malware and exploits.
Stay ahead of the latest attack techniques
Use automation against highly tailored and automated attacks and detect malware, exploits, malicious URLs, DNS and C2 across all traffic and protocols. Go beyond sandboxing and detect threats using machine learning, static, dynamic and other advanced analysis capabilities. Scale malware analysis automatically and rapidly in the cloud as needed.
Optimize security operations
Save security operations teams time with detailed insight into the behavior of identified threats, indicators of compromise, and how they were blocked across traffic and protocols. Free up capital and operating expenses previously used for purchasing and managing on-premises threat detection and analysis hardware.