Software-as-a-service (SaaS) application usage has exploded with enterprises shifting from storing public, internal-only, confidential, and restricted data on-premises to the cloud.
The typical enterprise has purchased 100+ applications, accounting for 70% of its software. This number of applications makes settings and configuration management challenging as each application has 10s to 100s of unique settings that are app-specific and difficult to standardize.
This complexity can lead to misalignments between IT and InfoSec teams with serious consequences. For example, the average company has 4,468 user accounts and 33 super user accounts with multi-factor authentication (MFA) disabled, resulting in 81% of organizations having their sensitive data at risk of exposure.
Protecting Sensitive Data in SaaS
Companies must harden their SaaS app settings to help avoid a breach and protect sensitive data stored in the SaaS app. Unfortunately, today many companies painstakingly track app configurations via time-consuming audits in spreadsheets like the one shown here.
Existing processes—like using spreadsheets—aren't scalable. Instead, they provide a point-in-time audit that typically requires at least a week to update the security posture after gathering the information. And since these audits are infrequently performed, the security posture of a SaaS app becomes outdated, making it prone to a misconfiguration.
We have developed a unique solution to properly manage your SaaS application settings to eliminate the chances of a misconfiguration-related breach.
SaaS Security Posture Management (SSPM), powered by Palo Alto Networks Next-Gen CASB, allows customers to align to security best practices for multiple SaaS apps in one location, fixes misconfigurations with a single click, and prevents configuration drift by enabling users to lock critical security settings in place.
In addition, SSPM performs comprehensive monitoring of all security-impacting configurations in subscribed SaaS apps, enabling you to:
Reduce the time to audit from 1 week to 15 minutes
Quickly adopt best practice configurations
Rapidly identify and fix security risks with a single click through an intuitive UI
Lock your security-critical settings in place and avoid regressions given multiple teams typically administer SaaS apps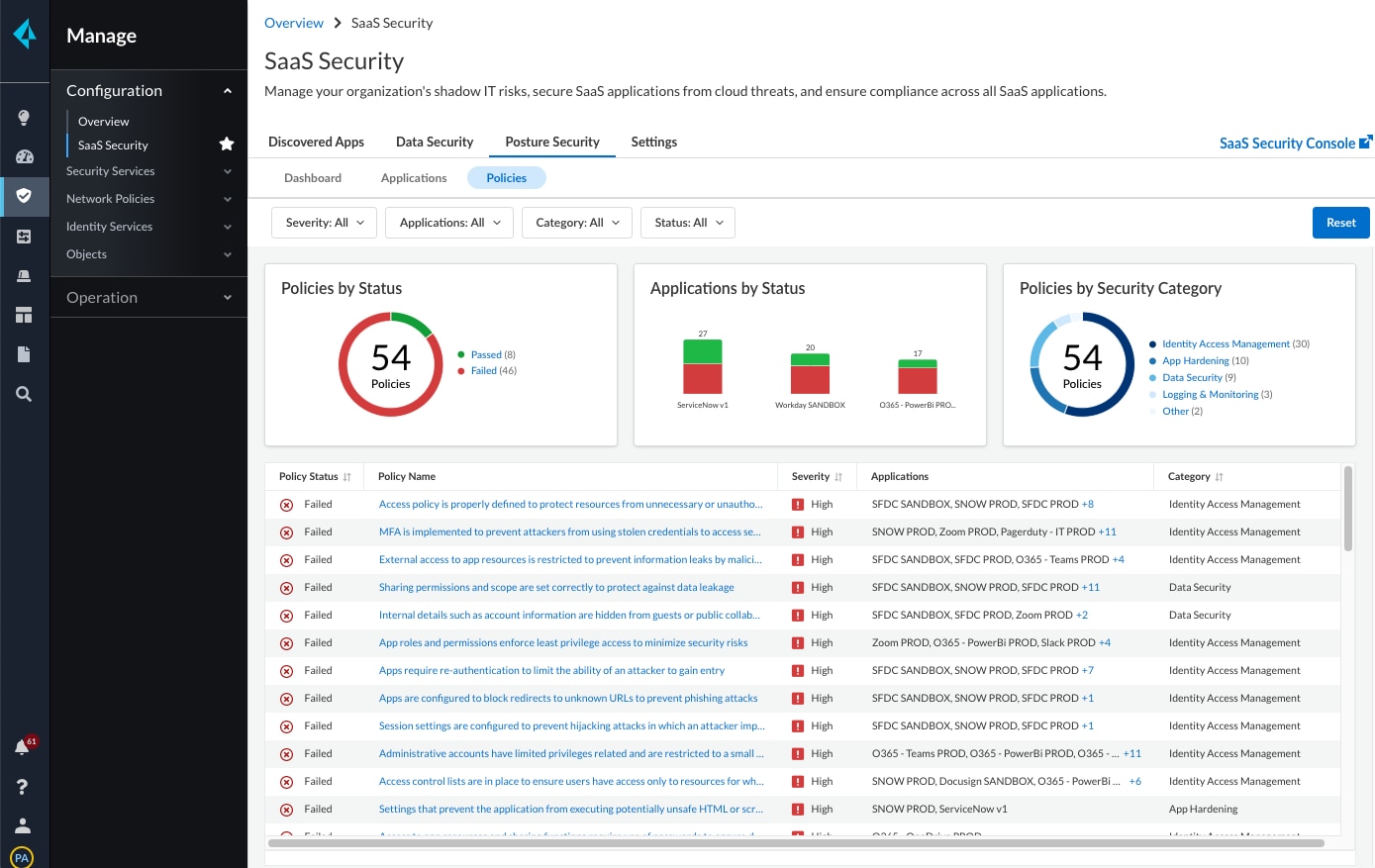 Palo Alto Networks' SSPM offers 10x more integrations and checks up to 3x the settings for a given app compared to similar solutions. This drastically reduces the remediation time for security administrators and leverages security automation to prevent attacks on SaaS applications. In addition, SSPM is natively integrated into our SaaS Security offering within Prisma SASE, allowing simplified administration and monitoring across all cloud-delivered services.
Conclusion
Consider how much you spent on SaaS in the past year and whether you are allocating a comparable budget to securing these apps.
We encourage you to try our SSPM solution. It only takes a few minutes to quickly align your top SaaS applications to the security best practices and start eliminating the chances of a breach caused by misconfigurations.