Dive into Cloud NGFW, our new managed cloud native service on Amazon Web Services (AWS), providing best-in-class network security with cloud-native ease of use. To get started, we're offering a free trial of the cloud native service to all new subscribers, which includes two next-generation firewall (NGFW) resources with full features to secure 100 GB of traffic. Continue subscribing and easily pay-as-you-go with AWS billing.
Get Cloud NGFW in Three Easy Steps
Procured in AWS Marketplace, Cloud NGFW extends cutting-edge threat prevention capabilities to workloads in the AWS cloud. As the first NGFW to integrate with AWS Firewall Manager, this cloud native service lets AWS customers take advantage of automatic scaling and high availability with no maintenance requirements. Setup is quick and easy with the ability to enable network security in just a few clicks. Setting up rulestacks and automated security profiles only takes a few minutes.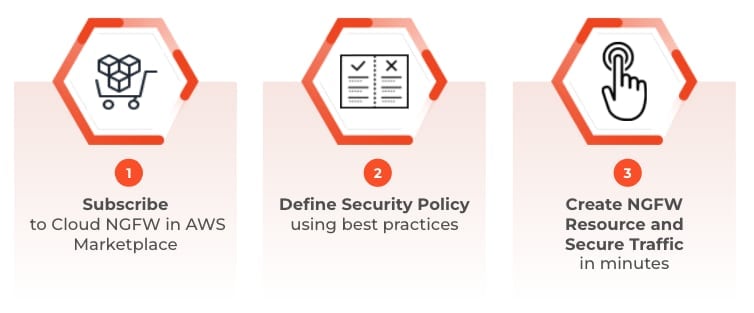 For further ease of use, Cloud NGFW integrates with native AWS services, such as Amazon S3, CloudWatch and Kinesis. Integrations like these help enable consistent firewall policy management across multiple AWS accounts and virtual private clouds (VPCs). What's more, Cloud NGFW easily automates security with support for APIs, CloudFormation and Terraform templates to enable automation of end-to-end workflows.
See Cloud NGFW in Action
If you're looking for more reasons to dive in, be sure to watch our short demo on Cloud NGFW to see how you can secure your AWS workloads quickly and effectively. Our product experts will walk through set up and show just how easy it is to achieve best-in-class security with cloud-native ease of use.
And if you'd like to dive in even deeper, check out our on-demand event, Cloud NGFW: Best-in-Class Security Made Easy on AWS, and gain insights from experts at AWS and Palo Alto Networks, as well as industry leaders. Even more details await you in this datasheet and this solution brief, where you can discover details and advantages of not managing any infrastructure and easy deployment while securing your AWS VPCs.
Or, you can simply get started with the Cloud NGFW free trial, today, for best-in-class security with cloud-native ease of use. We think the free trial will help you see why this pay-as-you-go, managed cloud native service is ready to secure your investments in the cloud.