Preparing for GDPR Compliance
After the deadline of May 25, 2018, compliance with the General Data Protection Regulation will be enforced.
Protect your data by protecting your endpoints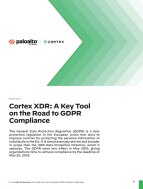 Stopping endpoint attacks is essential in GDPR compliance
Endpoints play a key role in organizational security, and Traps™ advanced endpoint protection helps compliance teams protect data in their efforts to be GDPR-compliant. Traps stops attacks before they can infect endpoints by blocking actions and behaviors attributed to successful breaches. It prevents successful ransomware attacks that leverage malware and exploits, known or unknown, before they can compromise endpoints and encrypt sensitive data. By protecting your endpoints, Traps helps protect your data – which helps you stay compliant.